Cheers then eat with Stella Artois
An ice-cold beer is one of THE most refreshing and satisfying ways to cool off! That first sip… *Bliss*
When it comes down to making the ultimate choice then Stella Artois is the perfect beer to pair with food. With its balanced malt sweetness, crisp hoppy bitterness and a soft dry finish – it can complement many dishes and make a special moment that much better.
We're going to run through some of our perfect foodie pairings you can create when you next open a bottle of Stella Artois.
Fiesta night!
Being creative with our evenings is a must now, so why not throw a Mexican night this weekend!
We're visualising chips and dip, tacos, burritos, sombreros and an authentic playlist in the background… all washed down with an ice-cold bottle of Stella.
Thinking about sides, we'd suggest making this delicious
homemade guacamole
recipe. It's super easy and perfect with some crunchy tortilla chips! Get ready for your evening whilst munching on these and sipping your beer. The crunch, the salt, the tang, the smoothness, the cold… it really is a taste sensation!
When it comes to the main, get your prep on with a some
tasty pulled pork tacos
or why not try our
vegan burrito recipe
? There's a choice for everyone! Don't forget to put some more bottles of Stella in the fridge or an ice bucket, you've got to keep them nice and cold for the perfect accompaniment to your meal!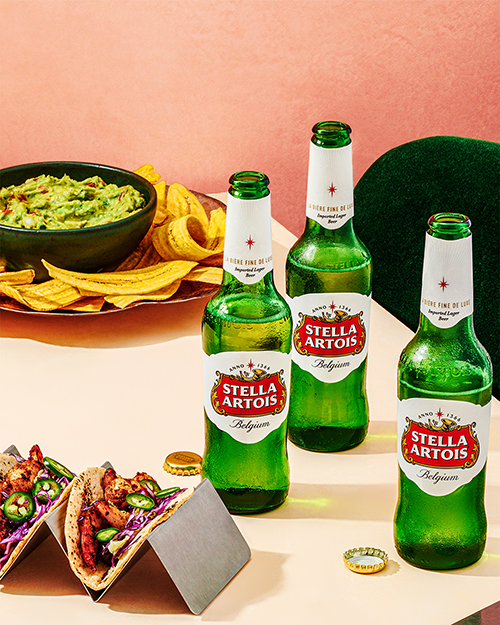 Indoor grillin'
Dreaming about summer? US TOO. Those long summer days with the BBQ lit. Well, sorry to say we can't fast forward time, BUT we can help you re-create this indoor with some top-notch food & beer.
Now, let's get a bit of indoor grilling action going on with some easy
Chicken Tikka Kebab Skewers
. Try these with any meat or fish you fancy, even try some Quorn Chicken – adaptable for any type of diet. These can be a great picky tea idea with some crisps, dip and salad! Fancy a warmer side dish to go with it? Try roasting some veggies in olive oil, garlic, salt & pepper and they can accompany your Kebabs!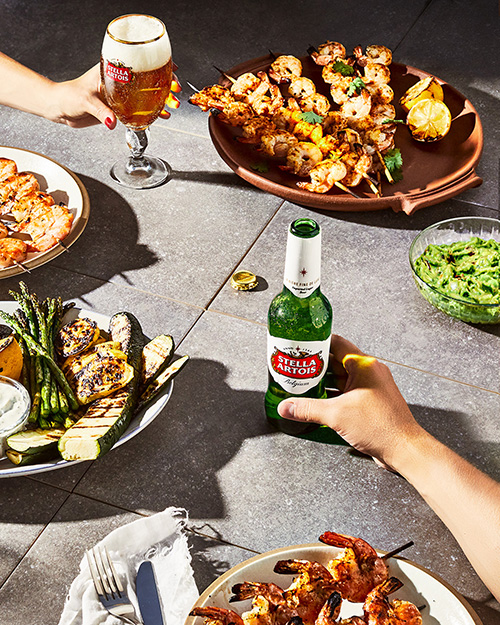 Snack attack!
Not up for a big meal or themed evening? Sometimes all you want to do is relax with a drink and something crunchy to munch on – we get you.
Just imagine… arriving home on a Friday evening, ready to put your feet up, popping open a cold one and getting your snack on. Well, we're here to give you some great ideas to make this a reality! Try these super easy snacks, prep at the start of the week and you won't need to worry come Friday, they'll be ready and waiting.
Our first suggestion would be these taste-bud-tingling
Caramelised Chilli Nuts
. *WARNING* this snack is VERY moreish.
Next, try something a bit different with roasted chickpeas. Trust us, these are perfect for crunching on with a drink! All you will need is…
1x tin of chickpeas
Salt & pepper
A drizzle of olive oil
1tsp each of smoked paprika, ground cumin & ground coriander
Rinse and spread your chickpeas on a lined baking tray.
Drizzle with olive oil and shake on your spices and make sure the chickpeas are evenly coated. T
hen pop into a preheated oven at 180 degrees Celcius.
Roast for 30-35 mins and then voila!
Let them cool and you have a perfect snack that you can store in an airtight container.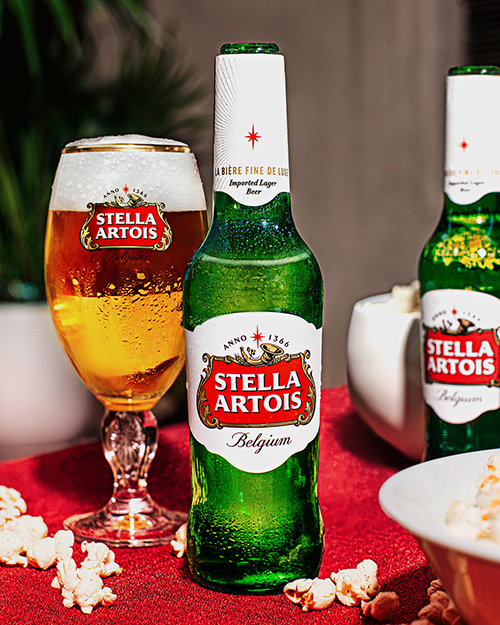 So just think, next time you stock up on Stella Artois, try some of these recipes for the perfect combination! You won't regret it. You can grab a pack of Stella at your local Costcutter store to try out some of our ideas. Find your local store here.