How to Throw A Spooktacular Halloween Party!
Halloween is the 31st October and this year it falls on a Saturday! It might be a smidge different to the last one – however, that's not to let it spoil the event and prevent us from going all out! Halloween is a great time of year for adults and kids alike, whether you're too cute to spook or a Halloween-Queen, there's something for everyone. Read along to find out some great ways that Costcutter have put together to have a fun and safe Halloween party this year. Let's lift some spirits, shall we?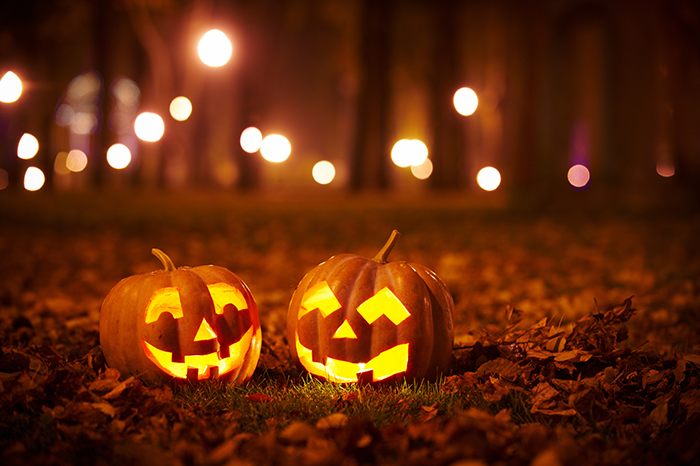 1.Invites
What's a party without any guests? In 2020 it's far more common to create a group on social media and invite along some family & friends on there but if you have the time, a physical invitation posted out can be a great idea especially if you have a creative flair or you're wanting to get the kids involved. Invitations can really set the mood for the soiree and informs the guests of what to expect. Be sure to let the guests know where the party will be, the date, time and most importantly - fancy dress!

2. Decorations
There are some great ways of dressing up the house for Halloween. You could play it safe by carving a few pumpkins and dotting them around the house or even make some Halloween bunting to put up. The beauty of social media is that there is so much inspiration with Halloween being such a popular event across the globe! Maybe put some faux spider webs up around the house – it doesn't have to be expensive. Get creative! You could even dip your hand in some fake blood and put it on a mirror for a chilling effect. If you have some time with the kids over the half- term, I'm sure they'd love to get involved.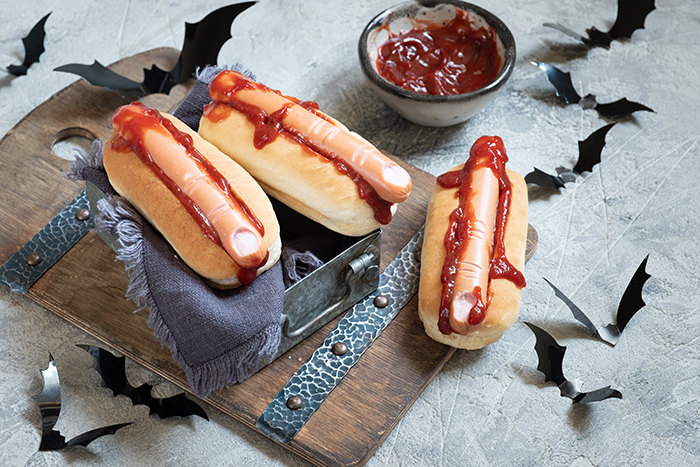 3. Keep the Vampires Fed
One of our favourite things about Halloween is the food & drink! It's great because party or no party, you can still have Halloween themed food. How about providing some Frightening Fajitas? Or Terrifying Tacos? Don't forget about dessert too! You could either do a Sweetie Explosion Flat Lay on a table or bake some quick and easy Skull Cupcakes for a real crowd pleaser. With a little imagination anything can be made Halloween-y!
To keep the thirsty witches happy, provide a bowl of punch. This can be alcoholic or non-alcoholic. A large bowl (or cauldron) will suffice with a ladle and some cups on the side, guests can help themselves. Don't forget to put some eyeballs in there so that they float to make it all the spookier looking - plastic eyeballs of course!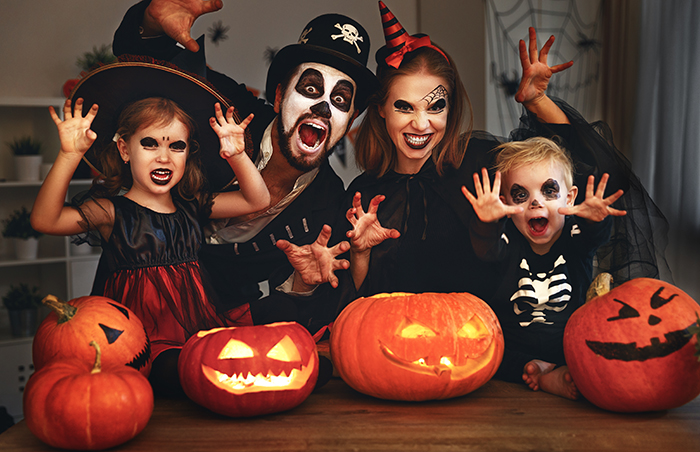 3. Music & Games
Get together a Halloween playlist or simply search for one online that has already been put together! This will really help set the mood for a Halloween party, even if it's just haunted house noises.
For the kids there are plenty of games to be playing like pass the pumpkin or even a Halloween themed scavenger hunt, hiding things around the house for guests to find. Maybe try some Halloween biscuit decorating or even pinning a tail on the witches' cat. Games for adults? How about a taste test, where guests are blindfolded and they must guess what it is you put in their mouths – English mustard, ketchup, you name it! Anything goes this Halloween.
Don't forget to stick with local government guidelines relating to the pandemic this Halloween so that it can be celebrated as safely as possible.
Support for you & yours…
Here at Costcutter, we want to give everyone the support they need – particularly at a time when everyone could use a helping hand.
That's why we're committed to providing you with handy hints and tips for everything from cooking to keeping the kids entertained.